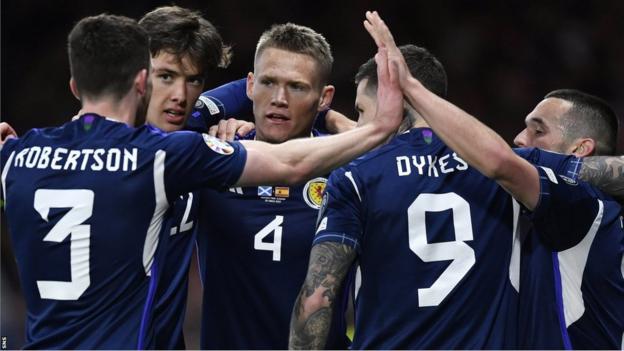 On nights like this – tumultuous and turbulent and a triumph from beginning to end – you raise your eyes to the heavens and thank the man above for Scott McTominay and his giant-killing chums, for Steve Clarke and his heroic leadership, and for the Hampden crowd in all their ground-shaking-under-your-feet euphoria.
This was special, thunderous, unforgettable.
Scotland hadn't beaten Spain since 1984, when Mo Johnston and Kenny Dalglish were the heroes. Ronald Reagan became president of the United States of America in 1984. Band Aid was in 1984. Diego Maradona joined Napoli in 1984. 1984 was a long, long, long time ago. Clarke had his 21st birthday that year.
When Kieran Tierney sped away from the Champions League-laden Dani Carvajal early in the second half, an entire stadium jumped to its feet in anticipation. When McTominay drilled his shot between the legs of David Garcia and past Kepa Arrizabalaga, the place erupted.
Never mind being able to hear the noise from one end of Glasgow to the other, you could have heard the racket from Santiago de Compostela to Seville. They'll have been gulping in Norway and Georgia, too. This was a night that will have reverberated around Europe.
With a new manager, a new captain, a new team, new tactics, Spain also had a new experience. Before this, they had lost only seven times in 146 qualifying games for European Championships and World Cups.
Make that eight. Make that a haunted look on the face of their players. Make it a post-mortem in their media and some deeply uncomfortable times for Luis de la Fuente, only in the job a wet week and already in danger of being overcome by a deluge of flak.
'Spain high on histrionics but low on cutting edge'
Two goals to the good, this was fantasy football come true. McTominay, an utter colossus on a night of giants, came off the bench on Saturday against Cyprus and scored twice late on. He took seven minutes to score again.
Poor Pedro Porro. Nobody warned him how tricky underfoot the Hampden pitch can be. Never let another bad word be said about this majestic, magic carpet. He slipped on the surface and let Andy Robertson in behind him. Robertson, like a terrier, pulled it back for McTominay and his shot got a deflection that took it past Kepa.
Hampden screamed its head off and rubbed its eyes in disbelief.
On the touchline, De la Fuente turned away in angst. He said that a new era in Spanish football had dawned with his appointment but he can't have predicted this. He took Luis Enrique's World Cup squad, World Cup tactics and World Cup mindset with its sideways passing and its attempt to inflict death by possession and chucked it in the bin. But what has he replaced it with?
He elevated younger players and dispensed with older ones. He took other older ones from the wilderness and put them in his team. Against Norway on Saturday, he gave Espanyol striker Joselu a debut two days short of his 33rd birthday. Against Scotland, he gave Osasuna centre-back David Garcia a debut at 29.