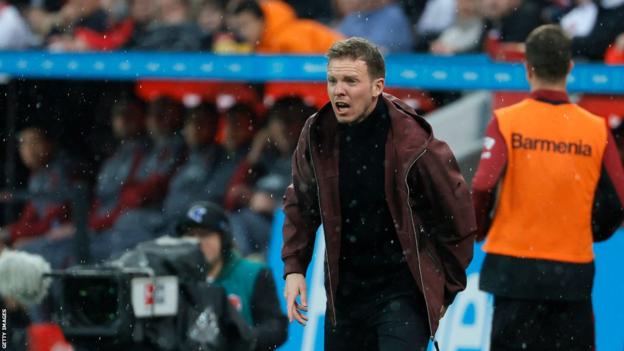 In one of the most surprising managerial changes in recent times, Julian Nagelsmann has been fired as manager of Bayern Munich and replaced by former Chelsea boss Thomas Tuchel.
The 35-year-old German, who led Bayern to the Bundesliga title in his first campaign in charge last season, leaves with his side one point off league leaders Borussia Dortmund.
They are also in the quarter-finals of the Champions League – after seven clean sheets in eight European matches – where they face Manchester City.
Despite just three league defeats all season and an average of 2.19 points per match during his 19 months at the helm – the fourth-best tally for a Bayern manager in Bundesliga history – the club's board was dissatisfied with Nagelsmann.
To the point that the decision was made to cut ties with the man who only recently was called a "perfect fit" by chairman Herbert Hainer.
But Bayern's bosses have been concerned by a lack of progress the team has shown, the way highly-paid players such as Sadio Mane and Leroy Sane have struggled this year, and the fact Nagelsmann has shown a tendency to antagonise key members of the dressing room.
In the end, the undoubtedly talented coach had no-one at the highest level to stick up for him.
Strong results until the World Cup
Whether there was no real on-field progress since his appointment from RB Leipzig in 2021 remains debatable.
After his first year at the club, which ended with Bayern winning their 32nd German championship but suffer a quarter-final exit from the Champions League, Nagelsmann grew more confident and began to change the club's tactical system last summer.
He deviated from the wing-heavy style which had been prevalent since the days of manager Louis van Gaal in 2010 – and instead let his team play more centre-focused.
It took time for Bayern to adjust to Nagelsmann's changes, while on top of that Bayern did not sign a replacement for prolific striker Robert Lewandowski who went to Barcelona before the season started.
And yet, Bayern won 10 games in a row before the World Cup break which, in hindsight, might have come at the worst time possible for Nagelsmann.
Following the re-start of the Bundesliga season, Bayern have shown signs of vulnerability, dropping 12 points in 10 games and thus keeping the title race in Germany alive.
Last Sunday's 2-1 loss to Bayer Leverkusen saw Bayern drop to second place for the first time since October, but that alone did not motivate the board to change their mind on the manager they had endorsed.
Conflict with keeper Neuer
Nagelsmann tended to make some enemies in the dressing room.
He and Manuel Neuer never saw eye-to-eye, and their conflict became visible after the captain broke his leg in a skiing accident in December and had to watch his goalkeeping coach and best friend Toni Tapalovic released.
Nagelsmann had tried to replace Tapalovic from the beginning of his tenure, but Neuer was successful in keeping his confidant at Bayern until he had to sit at home.
Other players regularly complained too about Nagelsmann's training style and the way he would constantly shout instructions from the sideline during games. The sentiment among a considerable portion of the team was that their coach came off as a know-it-all.
Coupled with off-the-field actions, such as leaving his wife and entering a relationship with a local reporter from tabloid newspaper Bild, and subsequent rumours about information being leaked by Nagelsmann, he was left in a tough spot.
While Bayern discussed his future, Nagelsmann and his girlfriend were on a skiing trip in Austria, which also did not go down well with some of the club's hierarchy.