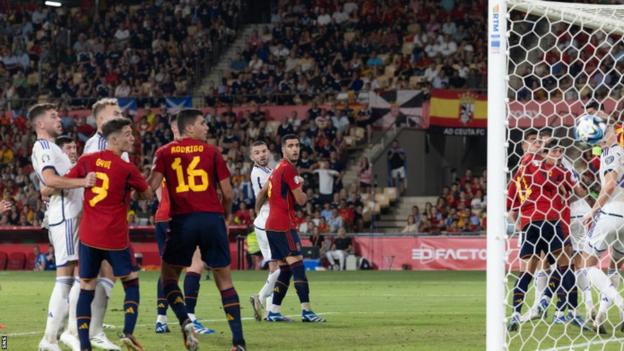 Every Scottish soul in the place knew what was coming.
The two giant screens inside Seville's Estadio de La Cartuja, a pair of roja harbingers of doom, flashed up 'VAR check in progress'.
Beneath one of them, a navy blue sea of bobbing arms and swinging legs shuddered to a bone-trembling halt as they gazed upwards. First to the screen – then to the heavens.
Seconds earlier, Scott McTominay's sensational whipped free-kick looked to have the Scots 1-0 up with half an hour to play in Spain. Half an hour from the European Championships. Half an hour from history.
Yet referee Serdar Gozubuyuk and his VAR team had other ideas. As soon as the Dutch official trotted to the pitch-side monitor, Scotland's luck, which had been wielded with some sorcery all evening, eventually deserted them.
Confusion reigned in the immediate melee and, even in the aftermath, there appeared to be little clarity as to why the goal, which was then followed by two at the other end to delay the visitors' qualification, was ruled out.
"That changes the whole night," head coach Steve Clarke told BBC Scotland.
Clarke's side, who just needed a point to reach Germany next year, had more than a bit of luck in a dogged defensive display during a first half in which captain Andy Robertson departed through injury.
But the complexion of this game changed when McTominay lashed into the top corner only for it to not count. Was Jack Hendry offside? Did he interfere with play? Did he foul the Spain goalkeeper?
"McTominay's fine free-kick is so close to being a super goal," Clarke said.
"Initially, Jack is a centimetre offside. Then, when he steps towards the keeper, they've asked the referee to look at it. They've interpreted Jack as interfering with the keeper. I'm not sure the goalie is saving that shot anyway."