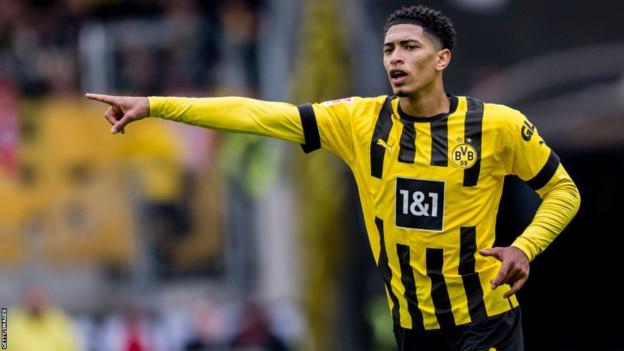 Real Madrid have completed the signing of England midfielder Jude Bellingham from Borussia Dortmund on a six-year deal.
The Spanish giants will pay 103m euros (£88.5m) for the 19-year-old, in addition to various potential add-ons.
If those add-ons are achieved, the deal could reach 133.9m euros (£115m).
Bellingham, who started his career at Birmingham City, will be presented as a Real Madrid player at a ceremony on Thursday.
"Thank you to everyone at BVB [Dortmund] and to the fans for everything over the past three years," Bellingham said.
"It's been an honour to wear your jersey so many times, in big and small moments.
"Even though I look forward to my next destination, I will never forget the journey there. Once a Borusse, always a Borusse. All the best for the future."
One of England's top performers at last year's World Cup, Bellingham was named the Bundesliga's player of the season as Dortmund missed out on a first league title in 11 years on the final day.
The initial fee means he becomes the second-most expensive English footballer after Jack Grealish, for whom Manchester City paid Aston Villa £100m in 2021.