Everyone in Germany is surprised Jadon Sancho has not had more game-time for England at Euro 2020 – but they don't want to see that change on Tuesday.
Sancho is huge in Germany because of what he has done with Borussia Dortmund, and is seen as a big star in the Bundesliga – he is only 21 but he has been spectacular for the past few seasons.
Another young England player at Dortmund, Jude Bellingham, is rated very highly too, but he is a different kind of player.
It is Sancho that Germany would fear at Wembley – if he plays. They know how good he is.
What makes him such a special talent is his technical capability at a very fast pace, and he is fearless – he just goes at people. I love watching him because, when he gets the ball, he excites the fans.
Of course people who watch him for Dortmund expected him to get more of a chance at this tournament – he has had only six minutes of action so far, as a substitute against the Czech Republic – but the same discussion you are having about fitting England's young talent in your team, we are having about Germany's emerging players too.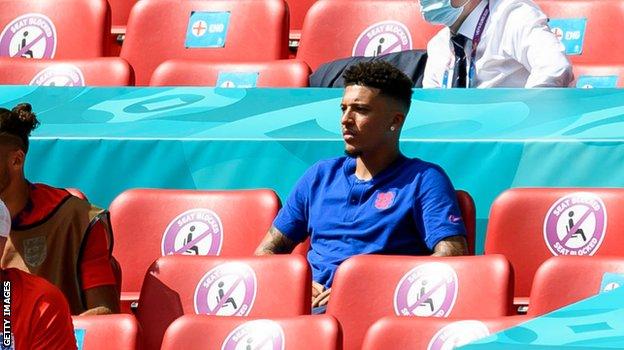 We have Serge Gnabry, Leroy Sane, Kai Havertz, Timo Werner and Jamal Musiala but, like England manager Gareth Southgate, Joachim Low has the choice of five or six players but only maybe three roles to give away since he brought back Thomas Muller, who is a fixture in that team.
The interesting thing about all of these youngsters is their power to surprise – they have so much ability and can decide a game at any given time, but they can also be inconsistent.
So, do you go with exciting young faces, or the tried and tested ones? Both managers have got some very similar decisions to make.
History will not matter to the new generation