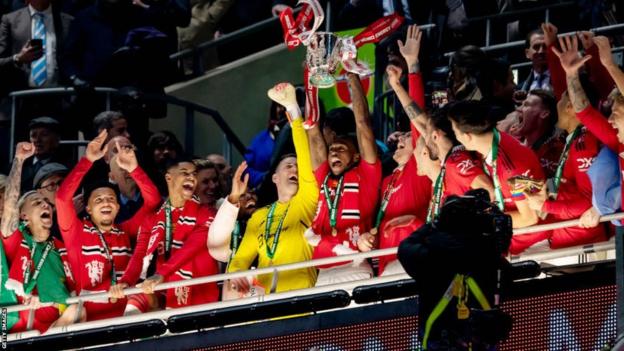 As the giant Wembley scoreboard clicked over to 90 minutes, thousands of Manchester United scarves were raised to the skies in triumph as an old familiar feeling was finally experienced once again.
And standing motionless in his technical area was the man who is shaping a new era away from the wastelands Manchester United have been occupying since their last success in the 2017 Europa League Final.
The EFL Cup was won. The closing minutes were simply a formality, as indeed was this final after Manchester United struck twice inside six first-half minutes – a lead they protected in relative comfort despite a spirited second-half effort from a desperately shot-shy Newcastle United.
Erik ten Hag has the feel of a transformative manager, with his air of authority and tactical acumen, and now has a trophy to prove it. It is a success Manchester United have been craving for almost six years.
It is too early to make definitive judgements only months into the job but Ten Hag has won the first trophy he could, rounding off a week when Barcelona were also sent packing on a thunderous night at Old Trafford in the Europa League.
There is, however, a change in mood at the club and the work of Ten Hag has been central to the switch.