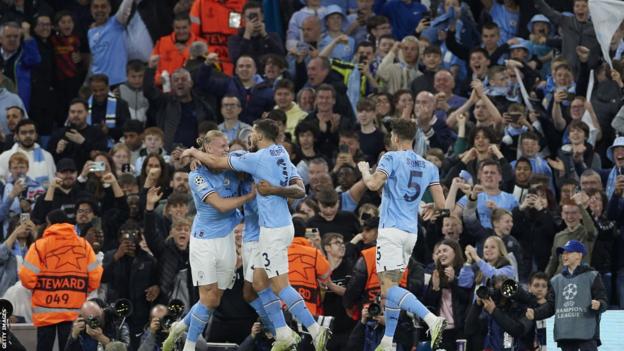 Pep Guardiola is football's great perfectionist but even he would struggle to find fault with the night of sheer mastery produced by Manchester City to obliterate holders Real Madrid to reach the Champions League final.
Guardiola did, of course, spot the odd flaw as he twice fell dramatically to his knees on the turf in his technical area in the second half, head clutched in hands when City conceded possession cheaply.
If you wanted to find fault within City's spectacular 4-0 thrashing of Real Madrid, that might just have been the extent of it. This was very, very special.
If anyone had any doubts about the greatness of the side Guardiola has assembled, they might have been erased by an other-worldly display, especially in a first half during which Real were pretty much reduced to the level of a lower league side clinging on in a cup tie.
And that greatness can be officially conferred on both team and manager if they successfully emulate the perfect Treble won by Manchester United in 1999 – winning the Champions League, Premier League and FA Cup.
City will be overwhelming favourites to beat Inter Milan in the Champions League final in Istanbul on 10 June. They face United in the FA Cup final at Wembley a week earlier and a fifth Premier League in six years will be sealed with victory at home to Chelsea on Sunday.
Indeed, it would now be more of a surprise if they failed to win the Treble than if they did, although United's desire to keep a piece of history for themselves will provide fuel and adrenalin for Erik ten Hag's team at Wembley.