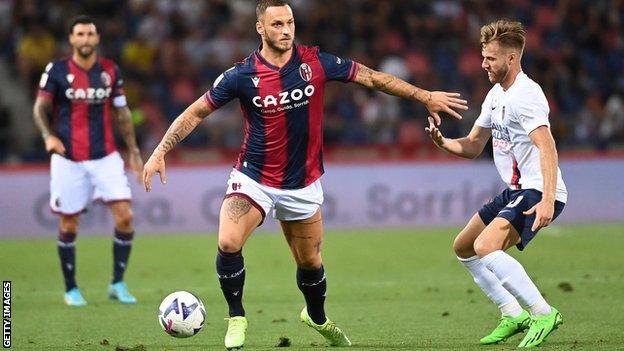 BBC pundit Chris Sutton says news of Manchester United's move for Marko Arnautovic is "a PR disaster".
Since new manager Erik ten Hag's tenure began with a 2-1 home loss to Brighton on Sunday, United have also been linked with Juventus midfielder Adrien Rabiot.
"That's madness, thinking about signing [Arnautovic]," said Sutton. "I thought it was a spoof, it's ridiculous."
Arnautovic scored 43 goals in 184 Premier League games before making a lucrative move from West Ham to Chinese side Shanghai Port in 2019.
The Austria international joined Bologna on a two-year deal in summer 2021, scoring 14 goals in 33 Serie A games last season.
Speaking on BBC Radio 5 Live's Monday Night Club, Sutton added: "It's a real wrong move in terms of the eyes of the supporters. There's a million other players out there United should have been linked with. I do no get that.
"It's an absolute PR disaster. If Arnautovic comes in, that's going to put Ten Hag under so much pressure."
After pursuing Barcelona's Dutch midfielder Frenkie de Jong all summer, United have now been linked with Arnautovic.
Bologna sporting director Marco di Vaio said Arnautovic is "at the centre" of the Serie A club's project.
"It's not a question of money," Di Vaio told Mediaset. "Marko is priceless for us for what he represents from a technical point of view, for what he represents for our club. The fact that a club like Manchester United comes looking for our player makes us proud.
"Arnautovic is a winning bet, we all made great efforts to bring him here and he responded on the pitch – we want to go forward with him, our will is not to sell but to strengthen and complete the team to make an important season."
Also speaking on the Monday Night Club, Micah Richards said Arnautovic is the type of player Manchester United should bring in "after you've got your number one signing".
Richards added: "He is a good player, it just shouldn't be announced now. He should be sliding in through the back door and you think, 'oh, he adds strength in depth'.
"It's just desperation, there doesn't seem to be a plan. But players don't want to go to Manchester United now.
"Say they tried to get [Moises] Caicedo, or another young player, because of the size of the club, fans would say, 'who's this? why are we not going for the top players?'"