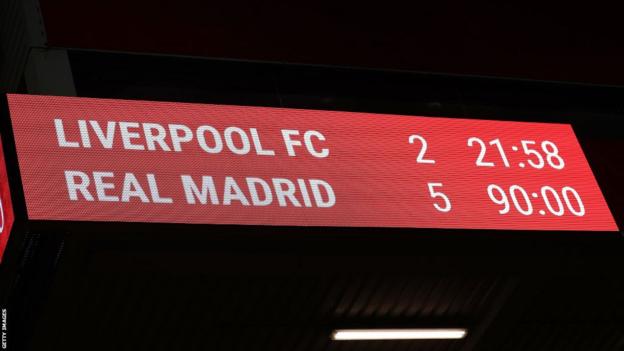 Liverpool will look to their Champions League history as they clutch at the straws left behind from a brutal 5-2 demolition by Real Madrid but reality dictates this particular miracle may be beyond them.
If last season's Champions League final in Paris was a tight affair that could have gone either way before Vinicius Junior struck, this was an Anfield evisceration – a moment of history of the wrong sort for Liverpool.
The atmosphere before kick-off was thunderous, anticipation at the arrival of the holders with revenge in mind heightened by the understandable determination of Liverpool's fans to register their disgust at Uefa after it initially blamed supporters for the chaos at the Stade de France in May.
The Champions League anthem was jeered at deafening volume while a banner emblazoned with the words "Uefa Liars" took pride of place right at the front of The Kop.
All looked on course when Darwin Nunez and Mohamed Salah put Liverpool 2-0 up inside 14 minutes while manager Jurgen Klopp was fist-pumping at the stands to whip up the fervour.
In the closing minutes, with Liverpool dispatched by Carlo Ancelotti's brilliantly ruthless team, the voices of players could be heard shouting to each other while Klopp stood crestfallen and motionless with his hands in his pockets.