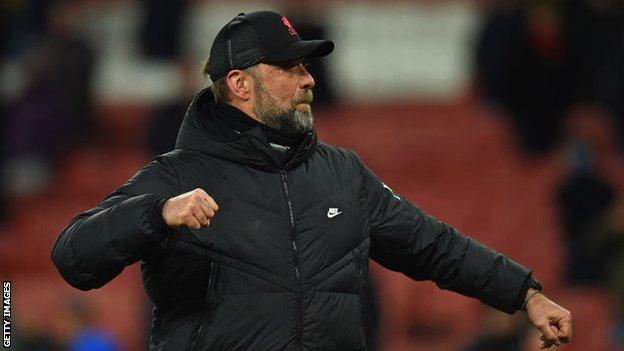 Liverpool's nine wins in a row have reignited a Premier League title race that was starting to resemble a Manchester City procession in January.
And the sight of Liverpool manager Jurgen Klopp's traditional triple fist pump after the final whistle could just as easily have been the sound of a gauntlet being thrown down in front of Manchester City counterpart Pep Guardiola after this 2-0 win at Arsenal.
First things first.
It is still advantage City as they have a one-point lead while Liverpool still have to go to Etihad Stadium in April, but make no mistake the Premier League landscape has changed dramatically in recent weeks.
When Liverpool beat Brentford 3-0 at Anfield on 16 January, they were still eight points behind a seemingly unstoppable City, who had beaten Chelsea the day before.
It was assumed, perhaps dangerously, that it was all over even after Klopp said: "If you are with us, you will enjoy the ride and we will go for everything. We are ready to go as much as we can."
And now, after a win that leaves Liverpool breathing right down City's neck with nine games left, Klopp and his players are indeed going for everything.
'A serious nail-biter of a finale'
The Carabao Cup has been won. They await the Champions League quarter-final draw on Friday. They play an FA Cup quarter-final at Championship Nottingham Forest on Sunday and the title race is more alive than it has been at any stage this season.
They have picked up relentless momentum while City have had the odd stumble, leaving the door ajar by being held to a draw at Crystal Palace on Monday and losing at home to Tottenham recently.
Liverpool may not be through the door but there is no doubt they are currently giving it a hefty shove and will take some resisting.
And Liverpool could be top of the table by the time City play their next league game. Liverpool face struggling Watford in the Saturday lunchtime game at Anfield before City travel to Burnley, another team desperately fighting against relegation.
Guardiola's side will still feel confident they can see Liverpool off as they have been successful front runners in recent seasons, accomplished in holding their nerve when being chased down, most memorably by Klopp's side in 2018-19.